The 4 Hour Marathon Race Strategy
Running 26.2 miles in 4 hours requires a high level of fitness. Fewer than 25% of marathoners have broken the 4 hour barrier.  Nearly all of the marathon must be run and a good pace must be maintained throughout.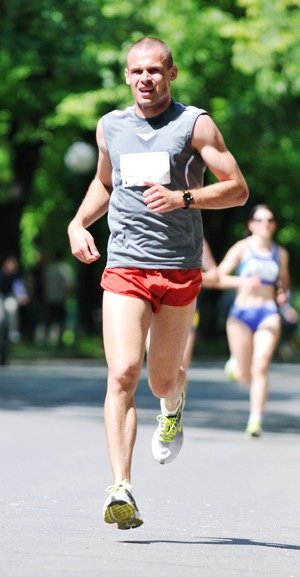 The 4 hour marathon requires an average pace of 9 minutes 9 seconds per mile, which is a moderately fast pace for most runners.  The typical 4 hour marathoner covers the first half (13.1 miles) in 1 hour and 52 minutes and the last half in 2 hours and 8 minutes.  This is what we call the Marathon Basics 47/53 Average Splits Strategy, where 47% of the total time is spent in the first half, and 53% spent in the last half. Since most runners are successful with this strategy, we'll follow it here.The Marathon Pre-Race Checklist
The first part of the strategy is to come prepared.  A 4 hour marathon can't be done by someone who has trained little (unless you're an elite athlete).  You'll need to have finished at least a 12-week marathon training plan, and preferably 16 or 20 weeks. 
If you're not sure that you can do a marathon in 4 hours, do a 10k race test (at least 5 days before the race).  You should be able to run a 10k (about 6.2 miles) in less than 52 minutes, which is about an 8:23 per mile pace. If you finish between 52-55 minutes, you have a chance if you've done a lot of endurance training (long runs over 15 miles).  If you had a 10k time of more than 55 minutes, you should be looking at a 4:15 or 4:30 marathon goal instead.
There are also important pre-race steps to mark off your racing checklist.  These include proper tapering and smart carbo-loading. Check out our article on the Marathon Pre-Race Checklist for more information.
Once you have the pre-race preparations complete, let's look at our race pacing strategy following the 47/53 plan.  We'll break the marathon up into 4 sections: 0 - 13.1 miles, 13.1 - 20 miles, 20 - 23 miles, and 23 -  26.2 miles.
Section 1: 0 - 13.1 miles
Our goal is to cover the first half in 1 hour and 52 minutes, which is a 8:33 per mile pace.  This will give you a some buffer to run a bit slower in the later miles.  
In the first miles of the race, you'll be feeling good and be excited.  Don't be too tempted to run beyond an 8 minute mile pace.  Running too fast for your fitness level will burn precious glycogen that you'll need in the last part of the race.  
The basic strategy to maintain in the first half of the race is to maintain a good even pace.  Drink at water stations if you're thirsty.  It's a good idea to try and get in 200 or 300 calories in the first half.  You can do this by drinking a full-calorie sports drink, or using something like gels, gummies, or regular food.  Getting these calories in early will help you avoid hitting the infamous wall.
Section 2: 13.1 - 20 miles
At the half-way mark you should be feeling good.  You may be feeling a bit tired, but this shouldn't be significant. If you're feeling exhausted at this point, you're going to need to dial down the pace, continuing to push for a 4 hour marathon will likely result in a difficult finish.
For this section, we're going to slow our pace a bit.  You've built up some buffer in the first half, our focus for this part is to maintain much of that buffer but not increase it. Our goal is to reach the 20 mile mark at 2 hours 58 minutes. That means we have 1 hour and 6 minutes to cover about 6.9 miles, which is a 9:33 minutes/mile pace.
Unless you're feeling absolutely fantastic, you should downshift a bit from your opening pace just to conserve energy for the final miles. Conserving energy in this part ensures that you'll have some fuel left in the system to complete a successful race.
Aim to get 100-200 calories in for this part, through sports drink, gels, or other food.  If it is getting hot in the race, you should be taking in some electrolytes and drinking enough fluids to counteract increased sweating.  Becoming dehydrated will slow you down, and you can't afford much slowing to get in under 4 hours.
As you reach the later miles of this part: 17, 18, 19 - you may begin feeling some soreness in your legs. Sore and tight muscles are common and you just have to push on. Typically, the pains you need to worry about are the sharp, excruciating ones that won't go away. These difficult pains may be a sign of a serious injury and pushing yourself to finish may make your recovery much more difficult.  If you're experiencing any persistent sharp pains, try to quickly find a medical station to get checked out.
Using Gels during the Marathon
Section 3: 20 - 23 miles
Marathoners run marathons for this part of the race. It's the point at which the body can run out of fuel if you've under-trained, ran too fast for your conditioning, and/or taken in insufficient calories. This is typically the part where runners "hit the wall" or "bonk", running low on sugar reserves. If you've paced yourself appropriately and have taken in 300-500 calories through the first 20 miles, you should have enough glycogen to sustain you through the end of the race.
If you've reached mile 20 at 2:58, you have 1 hour and 2 minutes to cover the remaining 6.2 miles. To do this, you'll need to maintain about a 10 min/mile pace. If you're feeling good, feel free to run a bit faster than this pace, you have a good chance of finishing a few minutes under 4 hours. If you're iffy (as most marathoners are at this point), continue to run steady and aim for the 10 min/mile pace.
The last 6.2 miles in a marathon is not just a physical test, but a mental one too. You've been running for about 3 hours and have around another hour to go. That can seem daunting.
You'll see runners around you begin to struggle, some may be walking, limping, even sitting down on the side of the road. The mental key to this section is to stay positive. Smile when it hurts. Laugh away negative ideas in your head. Offer some encouraging words to nearby runners, "looking good" or "finish strong" or "you can do it".  You will run faster if your mind stays positive.
If you begin to feel weak or dizzy during this last part, try to get some quick calories into your body.  Most likely, your body is running low on fuel. Prepared carbs like gels, and sugary foods like candy and soda pop can quickly rejuvenate you (read our article on using gels in a marathon). If you do hit the wall in this section, down as many carbs as you can and keep moving at a slower pace, even if you're just walking. Recovering from the wall can take 10-30 minutes, so try not to hit it.
Averaging 10 min/mile in this section puts you in good shape to finish the last 3.2 miles within your goal time.
Our next section focuses on finishing strong for a great time:
[adsense:728x90:3134407818]
Continue on to The 4 Hour Marathon Race Strategy Part 2.