Marathon Pacing Charts
Here's a handy marathon pacing chart to determine your needed pace in minutes per mile.  Pacing is based on the marathon standard distance of 26 miles and 385 yards, or approximately 26.22 miles.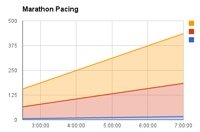 The important numbers to look at for your goal time is the Avg Min/Mile and 13.1 and 20 mile split times based on your race strategy.  The Avg Min/Mile gives you a general idea on what pace you'll need to average throughout the marathon to make your goal.  The 13.1 and 20 mile split times are useful during the race to gauge how well you're doing as you progress towards your goal.
The two even splits columns show the time needed to reach the 13.1 mile mark (half way) and the 20 mile mark, running consistent even splits.  The average splits column shows the timings for 13.1 miles and 20 miles, but with more typical 47% first half, 53% second half split pacing.  Most marathoners will follow the average splits columns. If you're not sure what strategy you should follow, use the Avg Splits columns for 13.1 and 20 miles. Research has found that running closer to even splits can reduce race finish times, but doing even splits requires proper training and generally prior experience in the marathon.
| Goal Time | Avg Min/Mile | Even Splits - 13.1 miles | Even Splits - 20 miles | Avg Splits - 13.1 miles | Avg Splits - 20 miles |
| --- | --- | --- | --- | --- | --- |
| 2:30:00 | 5:43 | 1:15 | 1:54 | 1:10 | 1:51 |
| 2:45:00 | 6:17 | 1:22 | 2:05 | 1:17 | 2:02 |
| 3:00:00 | 6:51 | 1:30 | 2:17 | 1:24 | 2:14 |
| 3:10:00 | 7:14 | 1:35 | 2:24 | 1:29 | 2:21 |
| 3:15:00 | 7:26 | 1:37 | 2:28 | 1:31 | 2:25 |
| 3:20:00 | 7:37 | 1:40 | 2:32 | 1:34 | 2:28 |
| 3:30:00 | 8:00 | 1:45 | 2:40 | 1:38 | 2:36 |
| 3:40:00 | 8:23 | 1:50 | 2:47 | 1:43 | 2:43 |
| 3:45:00 | 8:34 | 1:52 | 2:51 | 1:45 | 2:47 |
| 3:50:00 | 8:46 | 1:55 | 2:55 | 1:48 | 2:51 |
| 4:00:00 | 9:09 | 2:00 | 3:05 | 1:52 | 2:58 |
| 4:10:00 | 9:32 | 2:05 | 3:10 | 1:57 | 3:06 |
| 4:15:00 | 9:43 | 2:07 | 3:14 | 1:59 | 3:09 |
| 4:20:00 | 9:54 | 2:10 | 3:18 | 2:02 | 3:13 |
| 4:30:00 | 10:17 | 2:15 | 3:25 | 2:06 | 3:21 |
| 4:40:00 | 10:40 | 2:20 | 3:33 | 2:11 | 3:28 |
| 4:45:00 | 10:52 | 2:22 | 3:37 | 2:13 | 3:32 |
| 4:50:00 | 11:03 | 2:25 | 3:41 | 2:16 | 3:35 |
| 5:00:00 | 11:26 | 2:30 | 3:48 | 2:21 | 3:43 |
| 5:10:00 | 11:49 | 2:35 | 3:56 | 2:25 | 3:50 |
| 5:15:00 | 12:00 | 2:37 | 4:00 | 2:28 | 3:54 |
| 5:20:00 | 12:12 | 2:40 | 4:04 | 2:30 | 3:58 |
| 5:30:00 | 12:35 | 2:45 | 4:11 | 2:35 | 4:05 |
| 5:40:00 | 12:58 | 2:50 | 4:19 | 2:39 | 4:13 |
| 5:45:00 | 13:09 | 2:52 | 4:23 | 2:42 | 4:16 |
| 5:50:00 | 13:20 | 2:55 | 4:26 | 2:44 | 4:20 |
| 6:00:00 | 13:43 | 3:00 | 4:34 | 2:49 | 4:28 |
| 6:15:00 | 14:18 | 3:07 | 4:46 | 2:56 | 4:39 |
| 6:30:00 | 14:52 | 3:15 | 4:57 | 3:03 | 4:50 |
| 6:45:00 | 15:26 | 3:22 | 5:08 | 3:10 | 5:01 |
| 7:00:00 | 16:01 | 3:30 | 5:20 | 3:17 | 5:12 |